A New Bull Market for Self Storage
Cory Sylvester, Principal
Demand and Occupancy Surge, Driving Rental Rates to Near Record

COVID-19 has created a surge in demand for self-storage space since the second half of 2020, boosting rental rates and occupancies to or near all-time highs.  This surge in demand has led to the start of a new bull market in self-storage.

The fall and early winter months were incredibly strong, which is in stark contrast to normal seasonality. If you look at pricing in the second half of the year when the industry opened after the initial COVID hit, rental rates rebounded and continued to climb for the remainder of year.   This trend has continued into 2021.

This increase came on the heels of cratering rental rates early in the year when customers sheltered in place.  The real estate investment trusts (REITs), which largely drive the self-storage market, began slashing rates dramatically to attract the few customers who needed storage during the lockdowns.  Once the lockdowns lifted, rates recovered across the country as demand surged, move-outs slowed, and the length of stay increased.

Prices climbed 15% between January and December 2020, based on data from the REITs using 10-by-10-unit rates as a standard.

The surge in demand was more permanent versus what you would see in an emergency such as a hurricane. This increase in demand, coupled with lower move-out trends, helped to sop up a lot of excess supply. With record high occupancies, pricing has surged which has given us the confidence to say are in a new bull market.

A variety of new demand drivers were created from the impact that COVID-19 has had on the habits and lifestyles: people clearing out bedrooms to set up home offices and gyms; employees working remotely; students returning home from college; and businesses closing or downsizing.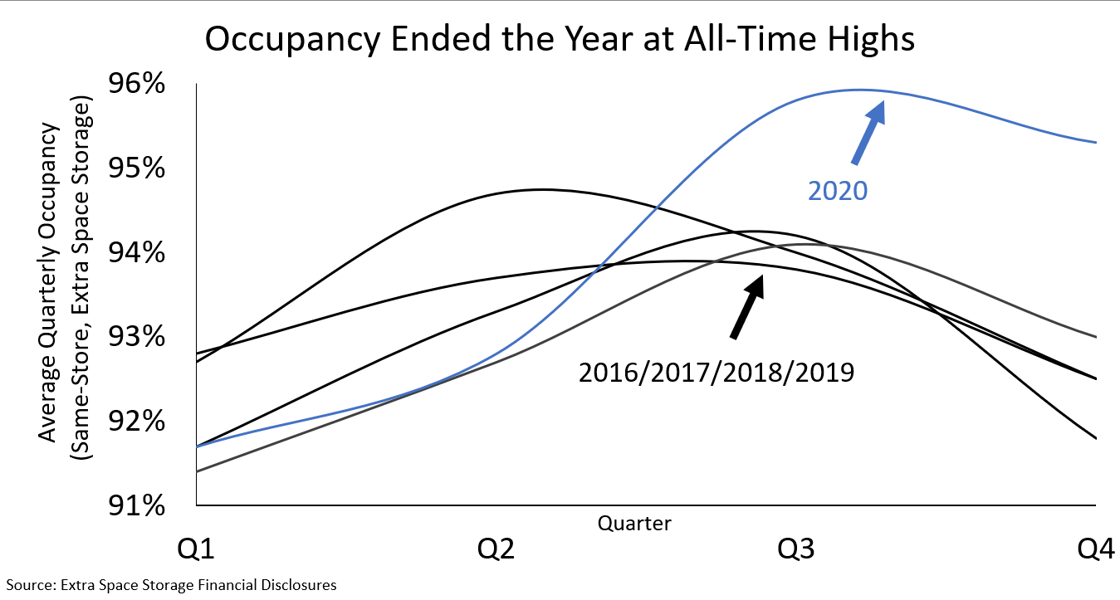 Oversupply Cycle Nearing the End in Some Markets

Overall, the self-storage industry has seen oversupply in many markets since 2016 where supply has exceeded demand.

After COVID emerged, most of the development came to a halt as the country virtually shut down, although the oversupply cycle was nearing the end.  While self-storage delivered a yearly average of just over 1,000 new facilities between 2017 and 2019, the number of self-storage openings in 2020 was near 700, a roughly 30% reduction from the 3-year average, according to Radius+.

Construction value put in place for December was $321 million, down 24% year-over-year. We expect construction spending to pick up after an influx in demand.

As prices go up, self-storage development should increase, but it is well off its peak in terms of run rate, and many of the developers that experienced overbuilding during this last cycle will re-approach the market slowly and with more caution, so it should not immediately reaccelerate.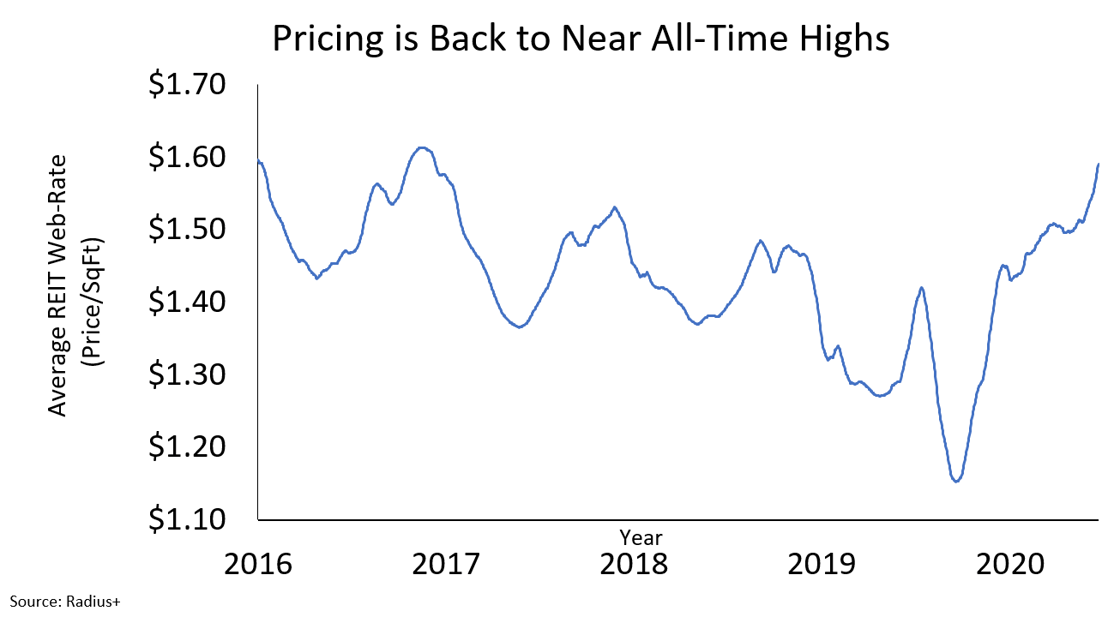 Recession Resiliency and the Bull Market

Self-storage proved once again to be resilient during last year's recession. Despite initial financial hits during the onslaught of COVID-19, facilities' rates and occupancies have recovered at an eye-opening pace.  In fact, self-storage outperformed all core commercial real estate markets in 2020 as REITs experienced double-digit year-over-year growth compared to 2019.

Self-storage fundamentals remain strong and the next bull market has begun.  Self-storage has been the top performing real estate asset over the last 25 years at a compound annual growth rate of 13.62%, according to the National Association of Real Estate Investment Trusts (NAREIT), a trade association representing REITs. In addition, the industry has enjoyed a 50% increase in adoption rate over the last 15 years, moving from 8% of the U.S. population using storage to the current rate of 12%.

Self-storage had an increasing penetration rate over the years, but overnight, COVID happened and a ton more people need storage and excess supply is getting absorbed in many areas. Now we are back to a bull market where supply is tight and prices will continue to rise because as occupancies go higher, operators can drive rates upward.



Thumbnail Photo by Pascal van de Vendel on Unsplash