It Ain't Seasonal
Cory Sylvester, Principal
Self storage web rates continued their strong performance through mid-December. Using 10x10 climate-controlled web rates as our proxy, ending November rates were approximately 19% higher than they were on January 1, 2020.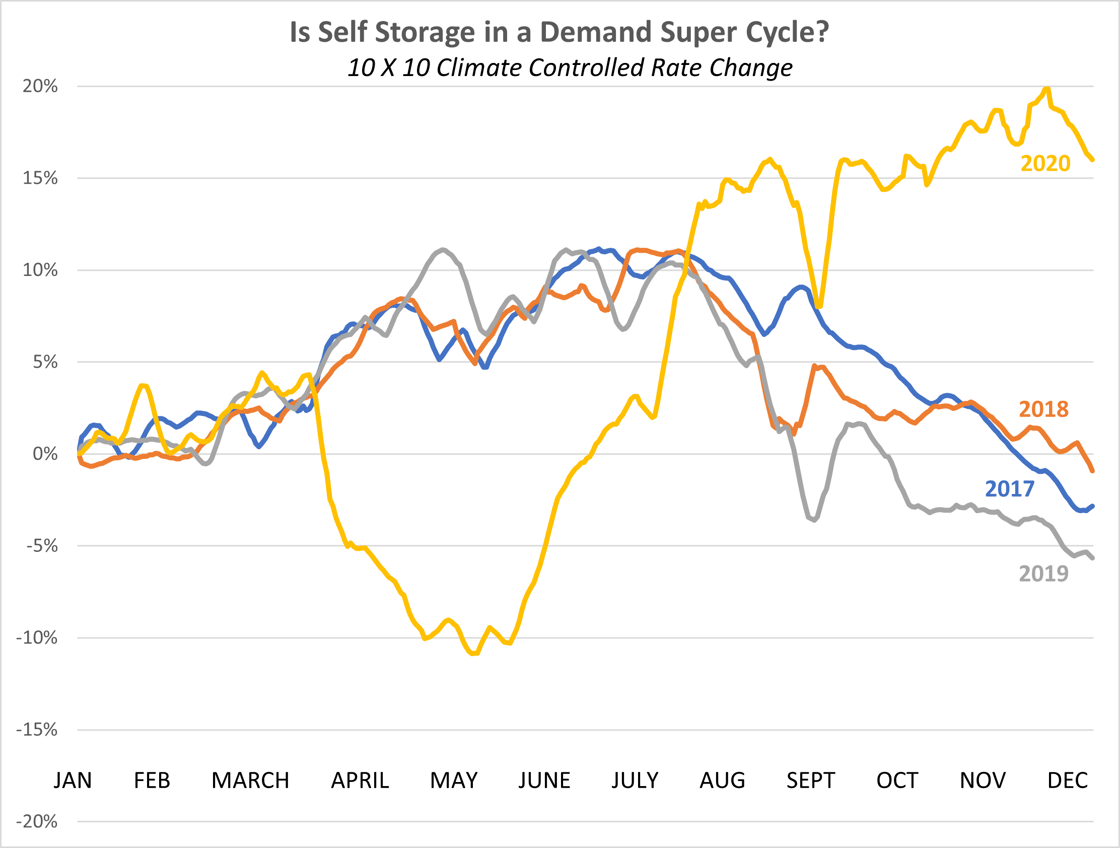 What should we normally expect for this time of year?

Looking at the prior three years as a guidepost, pricing is normally flat or down compared to where it started in January of each respective year. Said differently, normal seasonal trends are not playing out and rental rates for self storage are extremely elevated.



Looking into 2021 – Is this temporary?
The current view is the majority of pricing strength is NOT a function of eviction restrictions. We estimate that 30% of the major markets have some form of eviction restriction, but as we look at average occupancy across ALL markets, they are generally at their highs. In markets where eviction restrictions do not exist, occupancies are also near their all-time highs. Our conclusion is that self storage is in a non-seasonal demand super cycle of sorts. This increase in demand may or may not be structural, but we have found no reasonable explanation why it should end anytime soon. It is possible that we are in a new demand norm.
What will happen this Spring?

The COVID lockdowns caused massive disruption to the 2020 spring lease-up season.  As you can see in the chart, the dip in the height of the shutdowns show an overreaction by the REITs in order to attract as many tenants as possible.  Although we saw considerable strength in late-summer 2020, what happens in the Spring of 2021 is crucially important to the industry. If we see the normal seasonal uplift in demand, pricing will follow, and we could return to some seasonal normality. The difference is rates are starting 19% above their levels from last year. The industry may have just seen a surge in demand that could have implications for how 'quickly' we recover from the most recent over-supply cycle in many markets.
Thumbnail: Photo by Chris Lawton on Unsplash